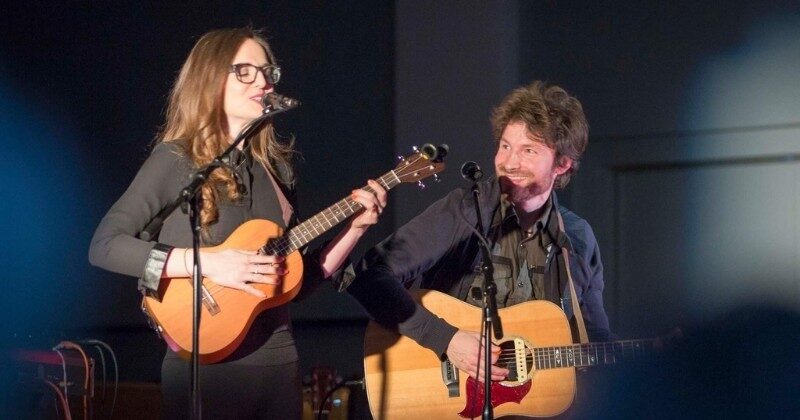 Meet Our Soloists
Becky and Nathan Bliss
The New Reform Temple is thrilled to welcome Becky and Nathan Bliss to our Temple family as our new musical soloists. They began leading Friday night worship and the morning services of the High Holy Days on August 26, 2016. Rabbi Londy commented: "I am thrilled that they have joined us. They bring a level of musical talent, experience, and passion that will profoundly enrich our congregational worship. They are without doubt among the most talented musicians that I have worked with during my career."
Both Kansas City natives, Nathan moved to Overland Park from Philadelphia in high school and attended Shawnee Mission North. Becky grew up in Kansas City and attended Shawnee Mission East, followed by the University of Kansas where she studied opera and graduated with a degree in Vocal Performance.
Nathan graduated Magna Cum Laude from Boston's prestigious Berklee College of Music with a dual bachelor's degree in jazz composition and saxophone performance. Soon after, he completed the Master Recording Program II at the Conservatory of Recording Arts & Sciences in Tempe, Arizona and moved to Los Angeles where he worked in recording studios and taught himself to play guitar.
Introduced by a booking agent in Kansas City in 2005 after college, Becky and Nathan both eventually moved to Brooklyn, got married, and started the indie folk band, Barnaby Bright. After the release of their first full-length album in 2009, they began touring extensively all over the world, playing roughly 150 shows a year. After six years of steady touring, releasing three full-length albums, winning several international songwriting awards and gracing such notable stages as Lincoln Center and NPR's Mountain Stage, they returned to Kansas City.
Their most sincere hope since they began their musical journey together over 10 years ago was that their songs and sounds would inspire, uplift and connect audiences to something greater than themselves. The New Reform Temple looks forward to being inspired by their musicianship and spirituality.
They currently live in Overland Park with their two rescue cats from Brooklyn: Lenny and Booger Cookie. Nathan has begun teaching private music lessons and Becky also works as a certified Pure Barre instructor and runs a small vegan, gluten-free dessert business.