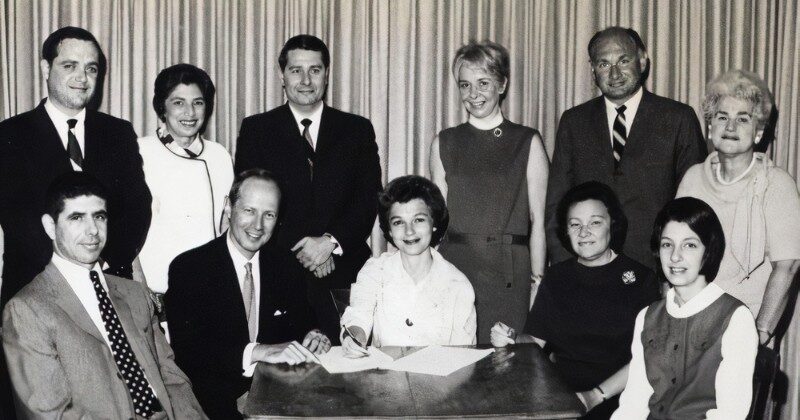 Founded on Principles of Classical Reform Judaism
The formation of our New Reform Temple was based upon strong convictions and a dedicated group of individuals. In late 1966, a Sponsor Committee under the leadership of Peggy Benjamin had its first organizational meeting. The excitement generated among these few people was quite special. Here was an opportunity to channel the spirit and enthusiasm of the committee into a philosophical reality that would meet the needs of a specific sector of the community: those who favored and believed in Classical Reform Judaism. In order to accomplish this, the committee incorporated using for the most part the bylaws of our sister congregation in St. Louis, Temple Emanuel. They included our statement of principles, a limitation on membership and the expressed feeling that this should be a closely knit group of people. The name was approved unanimously and The New Reform Temple was born. With a new name, a new letterhead and a commitment to a familiar form of service, the committee mailed letters to a number of persons who had expressed interest in our new temple. The response was terrific.
Initial Congregation Formed
Ninety-eight charter members signed in, and we were off and running. Our first mission was to obtain official approval from the Union of American Hebrew Congregations and request their assistance in finding a Rabbi. Our second task was to purchase, refinish and decorate the structure at Gregory and Main, which in the past had served as both a church and a telephone building. Reconstruction for offices in the building had been stopped and we all thought it providential that we could buy a great property at a reasonable price. A bank loan covered the cost of our project. A modest building campaign yielded exceptional results and enabled us to pay back our debt within a few short years. The names of the larger givers were listed on brass plaques under the sanctuary windows. Mrs. Marilyn Goldman decorated the interior inspired by the old Touro Synagogue in Newport, Rhode Island.
Continuing the Tradition
Our New Reform Temple was attractive to many families for many reasons. It was a welcoming and beautiful place where common ideas and friendships could blossom. We believed it was necessary to share a religious intimacy with one another through our services and in our religious school. Furthermore, we believed that it was important to know one's Rabbi and their children's religious school teacher and that our Rabbi and teacher know us.
We felt in 1966, as we do today, that religion is a very personal matter and we still want to foster that feeling. We recently celebrated our 50th anniversary, and hope to remain a staple in the Kansas City community for at least another 50 years.
Pictured Below: The 50th Anniversary Committee in 2016 – from left to right – Tom Barnett, Bobby Epsten, Ann Darke, Tom Isenberg, Ann Baum, Ben Proffer, Pati Chasnoff, and Arthur Stern.