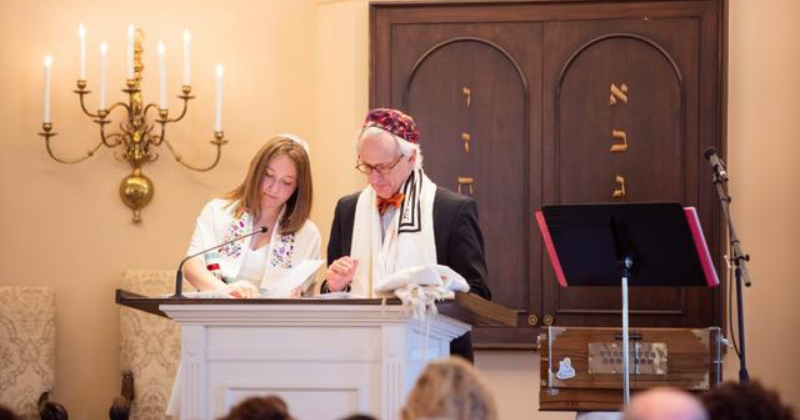 An accessible approach to celebrating a Bar/Bat Mitzvah
When The New Reform Temple was formed in 1967, Bar/Bat Mitzvah was not part of the ritual practices of our congregation. Our founders followed the Classical Reform Jewish practice that Confirmation, at the age of 16, was the appropriate moment in the life of a young person to affirm their place in the synagogue and Jewish life. The New Reform Temple continues to emphasize Confirmation. We have incredible success in keeping young people connected to our temple during their high school years.
The New Reform Temple is a dynamic congregation that believes that Judaism needs to evolve in response to new ideas and changes in perspective. Fifteen years ago, The New Reform Temple introduced Bar/Bat Mitzvah as important part of our ritual life. Many families opt for a Bar/Bat Mitzvah; others do not. Our temple places a great deal of emphasis on individual families making informed choices concerning their family's religious life. The temple is here to support those choices.
If anyone wants more information about The New Reform Temple Bar/Bat Mitzvah program, please feel free to contact Rabbi Londy via the button below. He is delighted to meet personally with families to determine what is the best way for them plan for this special religious milestone.
NRT has developed a comprehensive, and accessible approach to celebrating a Bar/Bat Mitzvah in our congregation.
First, a Bar/Bat Mitzvah candidate must be committed to a formal program of Jewish learning.
We have an outstanding Religious School which offers an engaging Sunday morning Jewish learning experience. This program begins with Torah Tots, which is a pre-kindergarten program, and continues through 10th grade. In specific situations, alternative, individualized learning programs can be crafted.
Second, Bar/Bat Mitzvah is celebrated when a child has reached their 13th birthday or beyond.
When the child is 11 years old, parents contact Rabbi Londy to determine an appropriate date. When the date is set, the child begins private tutoring to prepare for the Bar/Bat Mitzvah. Rabbi Londy connects the child with a tutor who works with the child under rabbinic supervision.
Third, the Bar/Bat Mitzvah meets regularly with Rabbi Londy.
In these meetings, students discuss the meaning of this experience and prepare a sermonette related to the weekly portion.
Fourth, Rabbi Londy works with the parents to guide them in the family celebration.
We want to ensure that all family members feel comfortable and knowledgeable about the Bar/Bat Mitzvah process and ceremony.